Frequently Asked Questions
Answers to Commonly Asked Questions by Fans and Customers

About Gymwrap

Q- What material are Gymwraps made out of?
A- Our tri-layered patented material is made from polyester outer layers and cotton middle layer.

Q- Can I wash my Gymwrap?
A- Yes! Gymwrap's are 100% machine washable.

Q- What is the difference in thickness across all of our Gymwrap products?
A- The Gymwrap and Full Triangle are thicker than Bandi/Bandi+. Both the Gymwrap and Full Triangle consist of 3 layers, where the Bandi and Banid+ are just 2 layers of sweat absorption coverage.

Q- How big is a Gymwrap?
A- Gymwrap is 3" wide and long enough to tie in the back for all head sizes.

Q- Does it really wick sweat away from the head?
A- Gymwrap is designed with EvapoTECH, a blend of 3 layers scientifically designed to actually wick sweat away from the head. During a workout, the sweat will absorb through the fabric away from the face, keeping your hair and face more dry than other headwrap products.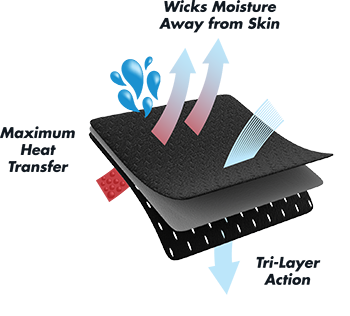 Q- Will it work with ______ hairstyle?
A- Gymwrap will work with any hairstyle. How you wear it is completely up to you! Whether you have a full head of hair or none, Gymwrap will work for you.
Q- How long should I wear Gymwrap?
A- Once you are finished with your sweat-inducing activity, leave on your head for 15-20 minutes and then remove your Gymwrap.
Q- Can I wear it even when I am not exercising?
A- YES! Gymwrap's unique style can be worn as an every day accessory. Match it with any outfit!
Q- It's cold where I live. Will Gymwrap keep me warm?
A- Gymwrap's design was created to allow for maximum heat transfer. It will keep you cool in warm temperatures, and warm in cool temperatures. So whether you are in a hot gym or running on a winter morning, Gymwrap can help.
Q- Will Gymwrap still wick away sweat if I wear it under a helmet?
A- Goodbye helmet hair! Gymwrap will keep your hair tidy underneath the helmet, and still utilize the wicking properties. Your hair won't build up sweat under a hot helmet!
Q- Gymwrap doesn't come in my favorite color. Will you make one?
A- We are always working to introduce new colorways and patterns to appeal to all audiences, and we love hearing from our customers! Send any suggestions or questions about future products to help@thegymwrap.com and we will get back to you!
About Gymwrap Mask

Q- Where are the masks made?
A- Gymwrap masks are proudly made in the USA.


Q- Can I return my mask?
A- All mask sales are final.
Q- What size are the masks?
A- Our masks are for adults only. OSFM (one size fits most). They are 4.5" tall, 7" wide, and the ear loops are 3.5" wide.
Q- What is the mask fabric?
A- Our mask is made of 3 layers using Tri-blend fabric made up of Cotton, Polyester and Rayon. The center layer acts as additional filtration. The Tri-blend fabric helps to provide breathability, moisture wicking, softness, and durability.
Q- How do I wear my mask?
A- Always wash hands first. Use the ear loops to secure your mask and to remove it. The coverage area should go from near the bridge of your nose to down under your chin. Do not touch eyes, nose, and mouth when removing mask.
Q- How do I wash my mask?
A- Wash before initial use. Machine wash using warm water and detergent. Tumble dry normal heat. Wash face mask routinely depending on frequency of use.
Q- Are the masks medical grade or do they contain a pocket for a filter?
A- Gymwrap masks are not medical grade, but
masks pass the flame and spray tests
, both vital to confirm protection. They do not contain a filter, however the center layer of fabric works as added filtration.
Online Shop Questions

Holiday Disclaimer: Due to high volume of orders we are expecting shipping delays to occur.

Q- I just placed an order and need to make a change to my address. Can this be done?
A- If there are any changes that you need to make, you can email
help@thegymwrap.com
within 30 minutes of placing your order. Please make sure you include your order number and correct shipping information to avoid any delays.
Q- My package has been delayed for a long time by the carrier. Can I receive a refund?
A- Regarding long shipping delays, if there is no movement 3 weeks after that last update, we will issue a refund.

Q- Do you ship international?

A- Yes, we ship to Canada and United Kingdom. Due to COVID-19, processing and transit delays are to be expected. Please be aware, we have seen some transit times take longer than a month.
Q- How long will it take to receive my order?
A- Orders will process within 1-3 business days from date order is placed. We process and deliver orders Monday-Friday (excluding holidays).
Q- I entered a coupon code but didn't receive my discount. Please help!
A- Send your order number, full name on the order, and the coupon you meant to use to
help@thegymwrap.com
and we will assist as soon as possible! At this time, our masks, Limited Edition products, or already discounted products do not qualify for any additional coupons or discounts.
Q- I did not receive all of the contents of my order.
A- Send your order number, full name on the order, and any information on missing products to
help@thegymwrap.com
and we will assist as soon as possible!
Q- I received a different color than the one I ordered.
A- Accidents happen! We will be happy to ship you the correct item. Send your order number, full name on the order, and any information on the incorrect product to
help@thegymwrap.com
and we will assist as soon as possible!
Q- I have multiple discount codes that I would like to use. Is this possible?
A- At this time, only one discount code can be used per order.
Q- I placed an order but noticed you had a coupon code somewhere else. Can I still receive the discount?
A- As long as your order is on the same day of an announced promotion, and is not expired, we will honor any coupon codes. Send your order number, full name on the order, and the coupon you would like to use to
help@thegymwrap.com
and we will assist as soon as possible!
*** This does not include Black Friday/Cyber Monday deals. ***
Q- What is your return policy?
A- Please see our
return policy
Q- The tracking number you provided says the item hasn't shipped yet. When will it ship?
A- Please allow 1-3 business for processing of your order. If it has been longer than that, send an email to
help@thegymwrap.com
with your order number and full name on the order and we will look into it for you.
Q- My tracking says my package is delivered, but I can't find it!
A- Unfortunately sometimes theft can occur, however, Gymwrap is not liable. We will not issue refunds or process re-shipments for packages marked delivered by our shipping carriers. Your best course of action is to contact the shipping carrier directly with your tracking number and open a claim with them. If it is an ongoing issue, it may be best to have packages held at the local post office for pickup.
Q- Do you offer Military and First Responder discounts?
A- Yes we do! Please visit
https://thegymwrap.com/pages/military-first-responder-discounts
to have your ID verified and after the process is completed you will receive your discount code. Thank you so much for your service.