About Us
"The idea for Gymwrap came to me in 2011, when I noticed a common excuse emerge among busy, everyday women (myself included) about why they couldn't work out: their hair." - Nicole Ari Parker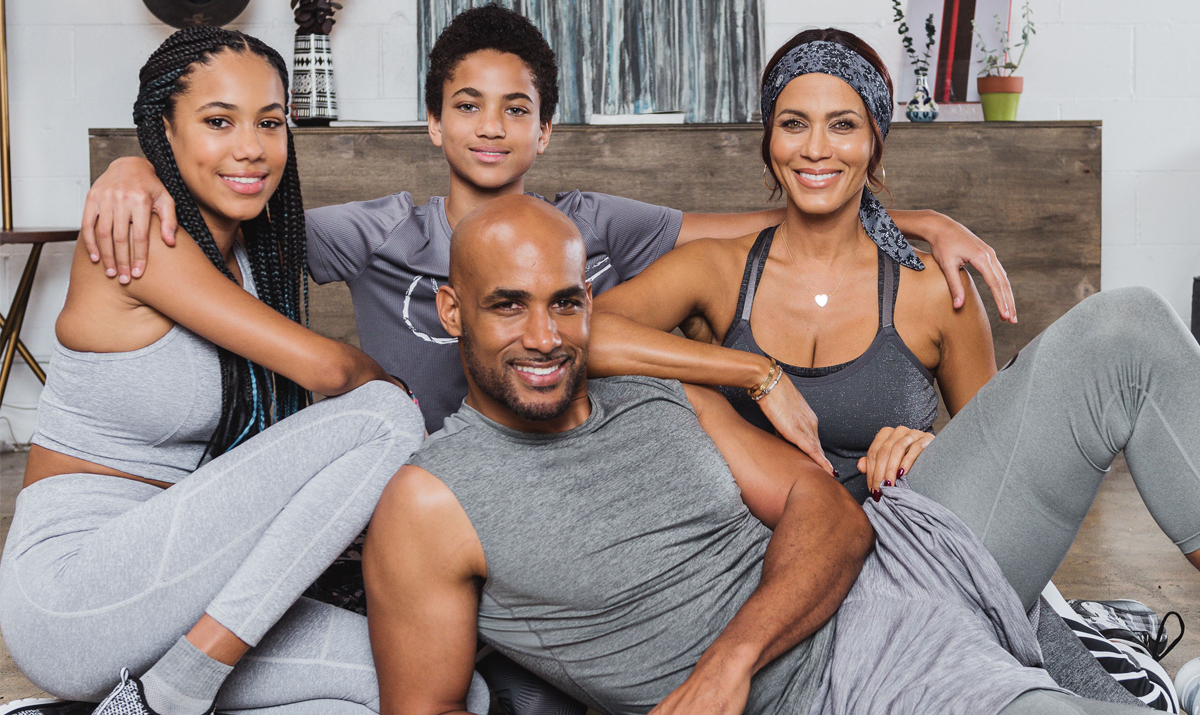 Hair is a serious issue for most of us women. After spending a ton of time and money to have it washed, blow-dried, flat-ironed and curled, none of us want to sweat and mess it up all over again.
I could not have predicted what happened next... During that summer, the Surgeon General issued a statement saying, " Women have got to stop using their hair as an excuse not to exercise." Wow! There it was plain as day. Our health issues had reached a state of emergency, and all because of one little detail - our hair. This nationwide call to action inspired me to perfect Gymwrap workout head wraps and finally bring them to you.

And of course we cannot leave out our men. My husband Boris has been wearing Gymwrap on the tennis court and in the gym for years and loves its absorbency because it keeps the sweat from running into his eyes. he isn't too worried about his hair but swears by Gymwrap to get 100% out of every workout. Gymwrap headbands come in a variety of colors and patterns - ideal for all hair lengths, types, and textures for both women and men.

In these uncertain times we must take care of ourselves and each other by making sure we put our health first. Gymwrap is committed to supporting you on your journey to a healthier and happier you, every single day.
LEARN MORE ABOUT GYMWRAP
Video Transcription:
Hi, Nicole Ari Parker here to talk to you about the Gymwrap. When I first created the Gymwrap I wanted to find a way to create a really absorbent sweatband, but one that didn't make you hotter. I also wanted to find a way to include all types of women, in all types of hair styles. Sometimes we wear braids, extensions, sometimes we wear our hair straight, sometimes we wear our hair naturally curly. So I found a way with my patented
EvapoTECH
technology to create a sweatband that would wick away the moisture and at the same time let the heat escape. So what you should do in most cases is kind of put your hair in a smoothing style, whether it's a high bun or a low pony tail. If you have short hair you want to brush it off your forehead and tuck it behind your ears to the side. I made an open-ended sweatband so you could wear it no matter what style you were rocking that day. You could work out or you could hang out. You just tie it firmly and go!
FEATURED IN

THIS IS THE BEST HAIR WRAP I HAVE EVER OWNED.
"I have bought 3 full head wraps, 2 bands, and 8 face masks. So soft and fits very well. I don't ever make product endorsements, but these are great and reasonably priced." - Stacey M.